Website Name: floralmoda.com
Website Niche: Women's Shoe Store
Is Floralmoda Fake or Real?
During our analysis we have found that Floralmoda is fake website.
The increasing hype of online shopping is the main reason why the scam rate is drastically rising and people get scammed in the name of 'online shopping'. To keep our readers aware of the real and legit online shopping portals, we have taken the responsibility to thoroughly search different websites and provide you all with a genuine review.
Today, we will give an honest review of the online shopping store Floralmoda.com. So, let's find out why it is fake. You should not place an order with this website. 
Here is why Floralmoda.com is Fake?
There are a few disturbing things about this website that give a red flag. So, let's discover what are the facts that convinced us to think that this website is not legit: 
1) Fake Address
The address mentioned on the website is entirely fake as it is a residential address not a company's, office or warehouse's address. Moreover, there is no footnote of the organization floralmoda of the address and places near the contact address mentioned on the website. 
2) Domain Lookup Analysis
During the domain lookup analysis using whois.com we found that it was registered on 2020-08-26. All the other information like organization name, client address, registrar address are hidden. A legit company will not hide such details.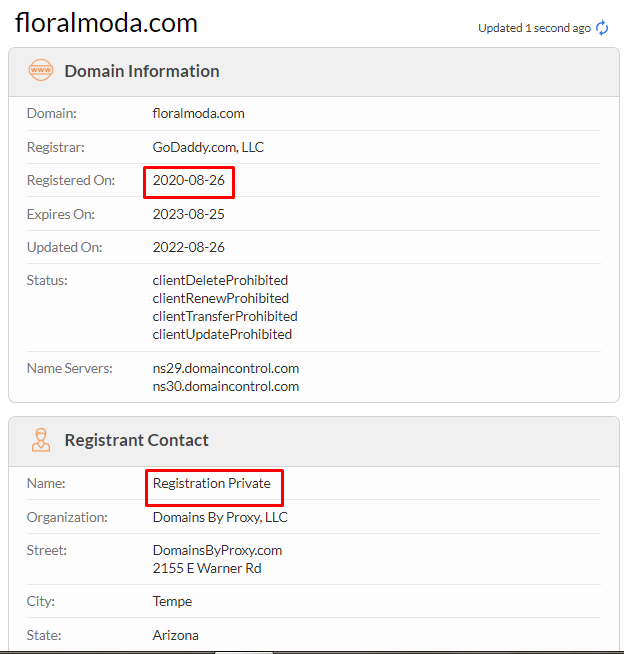 3) Huge discounts
Doesn't it seem surprising to see branded shoes at high discounted prices i.e a pair of shoes just for $10 instead of $200? Do you think it will happen? Can you actually buy a branded and trendy shoe set just for $10? A big no! Even though it is the end-of-season sale, the discounted price will be between $70- $100 but not $10. It shows that the website is fake and gives discounts just to catch the eyes of a swarm of customers. 
4) Copied Content
Not only the content of the website but also the images of the tops, dresses and shoes shown on the website are not real. They are copied from the internet and other websites. If a shopping store can't put original pictures of the products, do you think it will be trustworthy?  
Read Also: How to Hire an iOS App Development Company?
Here we have given the domains of some websites that have similar content as that of the content available on floralmoda.com: 
allymoda.com

chicrm.com

butyboots.com

newinstyles.com

shoemkt.com

chiconew.com

beautypairs.com

nancyootd.com

starwet.com

faddisha.com 

Ideal-shoe.com

Jimeiit.com

romwears.com
5) Shared Hosting
The Floralmoda.com server has several other similar shopping sites. It seems like a scam is being run by a single person. Here is the list of other websites hosted on same server.
99.83.230.40 butyboots.com
99.83.230.40 cherrypinks.com
99.83.230.40 cieleshoes.com
99.83.230.40 cuterrr.com
99.83.230.40 faddisha.com
99.83.230.40 faddishshoes.com
99.83.230.40 shoesbtq.com
99.83.230.40 floralmoda.com
99.83.230.40 floralmoda.com
99.83.230.40 jimeiit.com
99.83.230.40 shoesrarity.com
99.83.230.40 starwet.com
99.83.230.40 trendymap.com
99.83.230.40 urbeauti4.com
99.83.230.40 lalarosa.com
99.83.230.40 lalibuyy.com
99.83.230.40 lulupairs.com
99.83.230.40 mogusale.com
99.83.230.40 newinstyles.com
99.83.230.40 sheilawears.com
6) Several Facebook Accounts
You won't believe that the company has more than 5 official accounts on Facebook. Let us tell you that a genuine shopping store has just one official account. The second one is only created if the first one is not working or there is any other technical issue. If a company has more than 5 official accounts, it doesn't seem to be reliable. 
Moreover, the last activity on so called official Floral Moda page was on 7th February, 2022.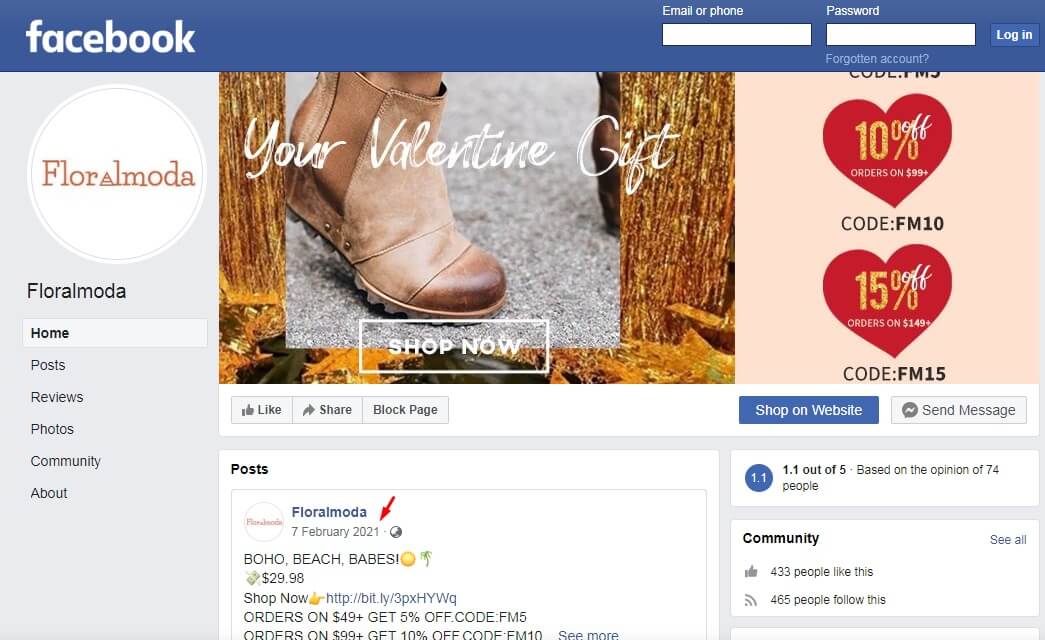 7) Fake Paypal Associated with Floralmoda
You will prompted to pay money to "Zjzm co ltd." when making the payment using Paypal. Surprisingly there is no mention of such company or partner on the official website. Which again leaves us astray.
8) Floralmoda Ratings 
On Facebook, the floralmoda shopping store has received only an overall 1 star rating. A plethora of customers has given a valid reason for giving 1 star rating to this website. However, the 5 star ratings given by the customers seem to be fake. Considering the ratings of the customers, the website seems to be fake. 
9) Customer Reviews
The credibility of a website can be estimated by scrutinizing customers' reviews. We have read all the reviews from the customers and have made a conclusion. The major issues that people experienced with this online shopping store are mentioned underneath: 
At the time you place an order from this website, they will deduct the money from your account(If account details are mentioned correctly).

It will take too long to get your order received. If you have planned a surprise gift for your loved one, the company will spoil it because you won't receive the order on time. 

The received products are usually of cheap quality or completely different from those you have ordered. 

There is no response to the messages on the mail. 

The customer service is really poor. 
Is floralmoda legit or fake? 
After observing the things mentioned above and other details, we have deduced that the website is totally fake. Think twice before purchasing anything from this website, otherwise, you may get scammed. It is better to purchase from some reputable and reliable online stores which provide complete security to your personal information and deliver high-quality products timely. 
Introduction to Floralmoda.com
For our users who does not know about the this website, here is a small introduction to the website. Floralmoda is an online shopping website that is truly designed for women. It claims to sell trendy female footwear, tops, dresses and much more that is liked by women and that too at discounted prices. It seems to be a Chinese website as the organization's name is given as 'Shaoxing Guiyi Dianzishangwu Youxian gongsi'. Doesn't it seem to be wired? Of course, it seems! 
Well, talking about that domain, the company's domain is 'www.floralmoda.com'. The address mentioned on the website is Bud Way, Unit 20 Nashua, NH 03063. After research, we have found that the mentioned address is in the USA. So, the owner has taken any random address from the internet and has not provided the real address. Moreover, the specified email address on the website is 'support@floralmoda.com'. 
Conclusion
Hence, it is clear that floralmoda is a part of a scam network and isn't reliable at all. We hope that this review will save you from fraudsters. Otherwise, your personal information and account details may get threatened by placing an order on this website.