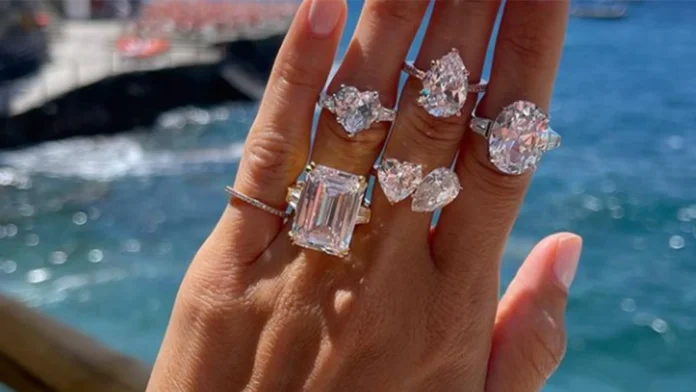 If you are recently engaged or plan on proposing to your partner, you probably have a glittering ring that tells of your commitment. Engagement rings have been a traditional symbol of love and devotion for centuries. Like clothes, the rings have a rich history, and their designs and styles have evolved over the centuries.
The Origin of Engagement Rings
Engagement rings have their origins in Rome. Romans used engagement rings as a sign of ownership rather than a symbol of love. The rings were not the shiny accessories we know today.
Ancient day rings comprised ivory, bone, or flint, and instead of gemstones had small keys attached to them. Women wore these rings to show they belonged to their husbands or fiances. When jewel makers realized that flint and ivory were not durable, they began making rings from metal.
Copper and iron were the common metals used in rings. Pope Nicholas I introduced the concept of rings symbolizing betrothal in 850, and men began giving women they intended to marry gold rings. These rings did not have the diamond centerpiece found on most rings today.
In 1477,  Archduke Maximilian of Hamburg gave his intended wife, Mary, a diamond engagement ring, sparking a trend among the royal class. At the time, diamonds were rare and expensive, and only wealthy families could afford them.
Diamond rings remained rare until the discovery of diamond mines in South Africa in 1867, which lowered diamond prices. The accessibility of diamonds fueled the demand for diamond rings among the less wealthy.
Diamond rings became the norm in 1947, when the De Beers Group, a diamond mining company, launched a campaign they titled  "A diamond is forever." This slogan became the most recognizable brand tagline of the time. Since then, diamonds have become the expected addition to engagement rings.
Engagement Ring Styles Over the Years
While gemstones have become the norm for engagement rings, the preferred style varies based on the preferences of each generation. Below are popular engagement ring styles in different eras:
Victorian Era Styles
The royal family influenced Victorian-era engagement ring styles in the 1800s. Although jewelers used a primitive rose cut to set the gemstones on engagement rings, the rings had highly detailed designs.
Jewelers paired diamond rings with colored gemstones and seed pearls. Some engraved their beloved initials on the rings or carved out flowers and birds onto the bands. Jewelers often engraved inscriptions on the outer part of the rings, unlike modern rings, which have inscriptions inside the band.
Edwardian Era Styles
Diamond rings were still prevalent in the Edwardian era. In this period, femininity and sophistication were the main themes in fashion, and on rings, this meant more diamonds and elaborate designs.
Using platinum to make rings made it easier for metal workers to carve intricate designs such as interwoven vines and linked hearts on rings. Jewellers set diamonds in ornate filigree settings, incorporating other sparkling gemstones into their designs.
Art Deco Period Rings
In the 1920s, art deco was all the rage, and jewelers started making rings with sharp lines and geometric shapes. Platinum and white gold rings with emerald-cut diamonds accented with colorful gems like sapphires and rubies were the preferred styles in this era.
1940s Ring Styles
In the 1940s, there was a preference for rough-cut diamonds. The impending world war limited access to platinum and diamonds, increasing their prices. Jewelers began making rose gold and yellow bands set with synthetic stones like rubies and sapphire to cut costs.
Rad Also: Here's Why Floralmoda is Fake – Floralmoda.com Reviews
Mid-Century Ring Styles
From the 1950s, yellow and rose gold bands became the norm. Diamond cut styles continued to vary based on what was trending at the time. In the 50s and 60s, it was solitaire rings with simple designs. The disco era in the 70s popularized bold rings with colored gems and geometric diamond cuts.
In the 80s, the royal family was back again, influencing ring styles. With princess Diana's engagement, replicas of the princess's blue gem and other colored stones were fashionable. The 90s saw the reintroduction of simpler engagement rings with marquise cut diamonds.
Engagement Rings Today
Today's women focus more on individuality than popular trends. Engagement ring styles vary according to women's preferences, and customization is the norm for modern couples. No matter how much engagement rings have changed over the years, they remain a timeless symbol of love and commitment for couples everywhere.